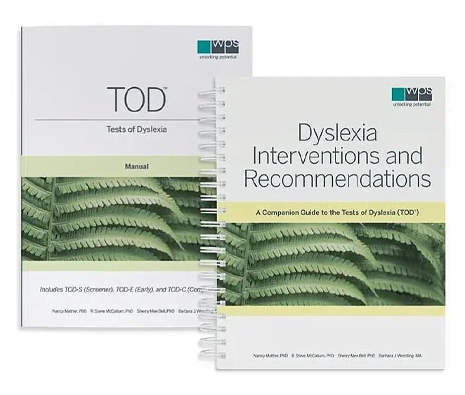 Test of Dyslexia [TOD]
Dyslexia is complex; Assessing for it doesn't have to be
For Ages: Grade K through adulthood; 5 – 90 years
Administration Type: Parent/Carer, Teacher, Self
Administration Time: TBC
Format: Hand Scored; Online administration and scoring in WPS Online Evaluation System
Coming in Spring 2023 – available for pre-order
Kits
Click to browse products
← Back to Product Description
TOD Combination Kit
W-705
Grade K through adulthood; Includes: Print items: Manual; Norms; Dyslexia Interventions and Recommendations: A Companion Guide to the Tests of Dyslexia (TOD); TOD-C Easels 1 and 2; TOD-C Response Booklet Grade 1–Adult (Pack of 10); TOD-C Record Form Grade 1–Adult (Pack of 10)*; TOD-S Administration Guide; 2 Packs of 10 of TOD-S Response Booklet and Scoring Sheet Grades K–1* and TOD-S Response Booklet and Scoring Sheet Grades 2–5*; Pack of 10 of TOD-S Response Booklet and Scoring Sheet Grade 6–Adult* and TOD-E Record Form Grades K–2*; TOD-E Easel / Online items: Manual; Norms; 10 uses of these Rating Forms: TOD-E Teacher, TOD-E Parent/Caregiver, TOD-C Teacher, TOD-C Self, and TOD-C Parent/Caregiver
TOD Comprehensive Kit
W-700
Grade 1 through adulthood; Includes: Print items: Manual; Norms; Dyslexia Interventions and Recommendations: A Companion Guide to the Tests of Dyslexia (TOD); TOD-C Easels 1 and 2; TOD-C Response Booklet Grade 1–Adult (Pack of 10); TOD-C Record Form Grade 1–Adult (Pack of 10)*; TOD-S Administration Guide; Pack of 10 of TOD-S Response Booklet and Scoring Sheet Grades K–1*, TOD-S Response Booklet and Scoring Sheet Grades 2–5*, and TOD-S Response Booklet and Scoring Sheet Grade 6–Adult* / Online items 10 uses of these Rating Forms: TOD-C Teacher, TOD-C Self, and TOD-C Parent/Caregiver
TOD Early Kit
W-702
Grades K–2; Includes: Print items: Manual; Norms; Dyslexia Interventions and Recommendations: A Companion Guide to the Tests of Dyslexia (TOD); TOD-E Easel; TOD-E Record Form Grades K–2 (Pack of 10)*; TOD-S Administration Guide; Pack of 10 of TOD-S Response Booklet and Scoring Sheet Grades K–1* and TOD-S Response Booklet and Scoring Sheet Grades 2–5* / Online items: 10 uses of these Rating Forms: TOD-E Teacher and TOD-E Parent/Caregiver
TOD Screener Online Kit
W-701P
Grade K through adulthood; Includes: Online items: Manual; Norms; Dyslexia Interventions and Recommendations: A Companion Guide to the Tests of Dyslexia (TOD); TOD-S Administration Guide; 10 uses of TOD-S Response Booklet Grades K–1, TOD-S Response Booklet Grades 2–5, and TOD-S Response Booklet Grade 6–Adult
TOD Screener Print Kit
W-701
Grade K through adulthood; Includes: Print items: Manual; Norms; Dyslexia Interventions and Recommendations: A Companion Guide to the Tests of Dyslexia (TOD); TOD-S Administration Guide; Pack of 10 of TOD-S Response Booklet and Scoring Sheet Grades K–1*, TOD-S Response Booklet and Scoring Sheet Grades 2–5*, and TOD-S Response Booklet and Scoring Sheet Grade 6–Adult*
← Back to Product Description

Dyslexia is complex.
Assessing for it doesn't have to be.
The Tests of Dyslexia (TOD™) is the first comprehensive assessment of dyslexia, eliminating the need to use tests from different assessments. Linking dyslexia assessment to targeted interventions has never been more efficient and effective.
Assessment components
TOD/Screener
Universal, group, or individual easy-to-use screener
Administered online or on paper
Helps with early identification
Use this brief assessment to determine an individual's Dyslexia Risk Index (DIR) and need for further assessment.
---
TOD Rating Scales
Co-normed rating scales used to enhance the assessment process
Parent/Caregiver
Teacher
Self
TOD-E and TOD-C
TOD-Early and TOD-Comprehensive
---
Use the Early Dyslexia Diagnostic Index (EDDI) or the Dyslexia Diagnostic Index (DDI), TOD rating scales, and additional TOD diagnostic tests, if needed, to determine if the individual has dyslexia.
Dyslexia Interventions and Recommendations:
A Companion Guide to the Tests of Dyslexia (TOD)
---
Use results from TOD-S and TOD-E or TOD-C to design a tailored intervention plan.
Assessment areas covered
Phonological Awareness

Rhyming
Blending
Segmenting

Phonics Knowledge 
Rapid Automatized Naming 
Letter and Word Recognition
Sight Word Acquisition 
Decoding

Real Words
Nonsense Words
Vocabulary Knowledge
Reading Comprehension & Efficiency 
Reading Fluency 
Spelling
Reasoning
Basic Reading Skills 
Listening Comprehension
Orthographic Processing
Auditory Working Memory 
Visual–Verbal Paired-Associate Learning
Benefits
TOD is the first comprehensive dyslexia assessment to include interventions tied to the assessment data. 
Suitable for all ages, the TOD offers age and grade-based tests, indexes, and composite scores:

TOD-Early (Grades K–2; 5 years, 0 months–9 years, 3 months) and TOD-Comprehensive (Grade 1 through adulthood; 6 years, 0 months–89 years, 11 months)

The screener provides a Dyslexia Risk Index score in 10-15 minutes.

This brief assessment can be given individually or in a group format by teachers or other professionals.
The TOD includes:

a detailed and evidence-based Dyslexia Interventions and Recommendations Companion Guide.
co-normed rating scales.
tests of reasoning for comparison with reading and spelling.

The TOD allows for:

identification and targeting of an individual's difficulties in acquiring literacy skills.
universal application regardless of district Specific Learning Disability (SLD) model.
individually tailored evaluation with standalone tests.
Dyslexia webinar series