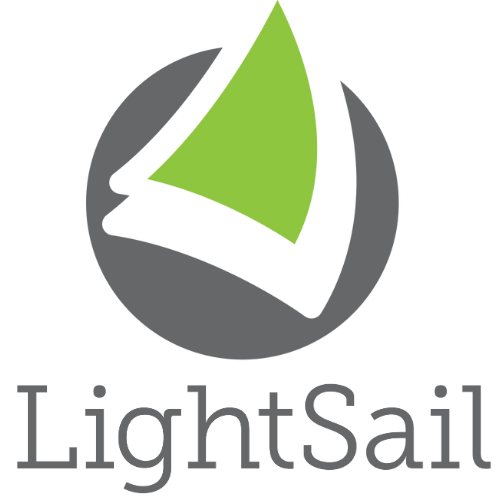 LightSail; e-Reading Platform on steroids
Engage, Motivate, and Assess student growth into a reading experience that students – and teachers – love.
From the US, used all over the world, now available in Australia
Subscriptions
Click to browse products
← Back to Product Description
LightSail Annual Subscription (150 students)
LS001
← Back to Product Description
Let's take a tour
It Works!
What if your students read 30 minutes a day in their just right zone?
The LightSail Library
Excellent content shouldn't come at a high price. That's why The LightSail Library is free for all of our schools. Through partnerships with leading content providers like News For Kids and Antares Reading™, LightSail gives students and educators access to thousands of outstanding fiction and nonfiction texts – at no additional cost and with unlimited copies.
The LightSail Library contains texts for students from grades K-12 written across a wide range of Lexile measures. These texts are embedded with assessments and cover a variety of subject matter. Now all students can discover who they are as readers through a broad and appealing library filled with great texts.
Thousands of high-quality fiction and non-fiction texts free for lightsail users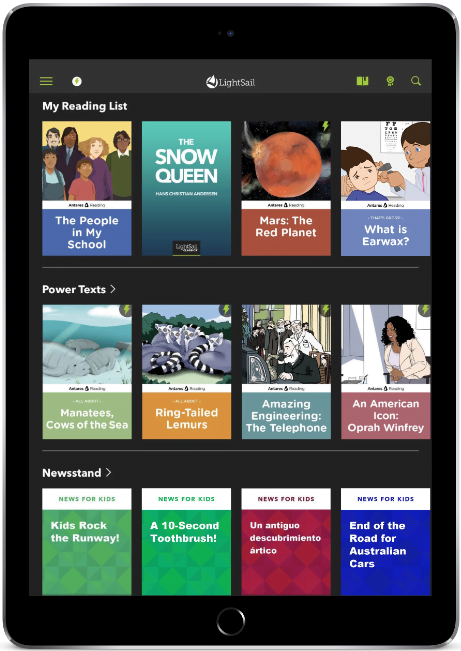 We've made it a priority to include an extensive selection of diverse, high-quality content with your purchase of LightSail so that every student has access to exceptional texts. Through partnerships with leading content providers like News For Kids and Antares Reading, The LightSail Library gives classrooms thousands of e-books and articles written across topics and genres at a wide range of Lexile measures for students from grades K-12. With unlimited copies of each title available to students and LightSail's assessments embedded throughout every text, the instructional possibilities are endless.
LightSail Classics
The LightSail Library offers more than 300 classic titles from authors such as William Shakespeare, Jack London, and Charles Dickens. With unlimited copies of each title available and assessments embedded in every one, these texts are ideal for whole class novel study and guided groups. LightSail's annotation and discussion tools allow teachers to make these texts accessible to more readers than ever before.
In Partnership with Antares Reading
Antares Reading provides short-form books across a wide variety of topics in English and Spanish that are exquisitely illustrated to engage and support young readers. These texts allow students to make connections between their everyday world and increasingly complex ideas, building foundational literacy skills, comprehension, and world knowledge. Antares Reading takes kids seriously, treating concepts with fidelity while honouring the age of its readers. The books prioritize diversity and reflect contemporary society, depicting a spectrum of races, ages, and family structures.
Embedded Assessments
Progress monitoring is embedded into daily practice in a natural way. Students answer multiple-choice, written-response, and Cloze assessments throughout each text. As student ability grows, LightSail tracks achievement and updates the selections in each reader's library – that way, students are always reading just right texts.
LightSail's educators have also built several key motivators into the app! Students can track their progress against individual reading goals, check their Lexile scores and the number of texts they've completed and show off their achievement badges – all via their personal data dashboard. Readers can also chat with peers and teachers during the reading experience using LightSail's in-app social network.
keep students learning with embedded assessments & motivation built right in!
LightSail embeds assessments right into the student reading experience. Short, relevant questions appear with frequency
as a student progresses through a text, making assessment feel authentic and low-stakes.
LightSail is partnered with MetaMetrics, the creators of the Lexile framework, to embed quick vocabulary assessments, called cloze items, throughout each book. These assessments allow LightSail to accurately pinpoint a student's reading level while also predicting future performance.
Students will also encounter multiple choice and short response questions at the ends of chapters. These questions look more closely at a student's comprehension of a particular book and how a student is performing on a particular skill, strategy, or standard. The short response questions are written at a deep level and require text evidence and critical thinking. Teachers can see how students are performing on the embedded multiple choice or short response questions and they can drill down to specific standards in order to inform targeted instruction.
Unlike other literacy tools, teachers do not need to write their own assessments to use LightSail. Every book comes complete with in- texts assessments so that schools can begin using LightSail without any effort whatsoever; yet, LightSail is also customizable. Teachers can turn on or off almost anything within LightSail, including the assessments by individual student or whole class.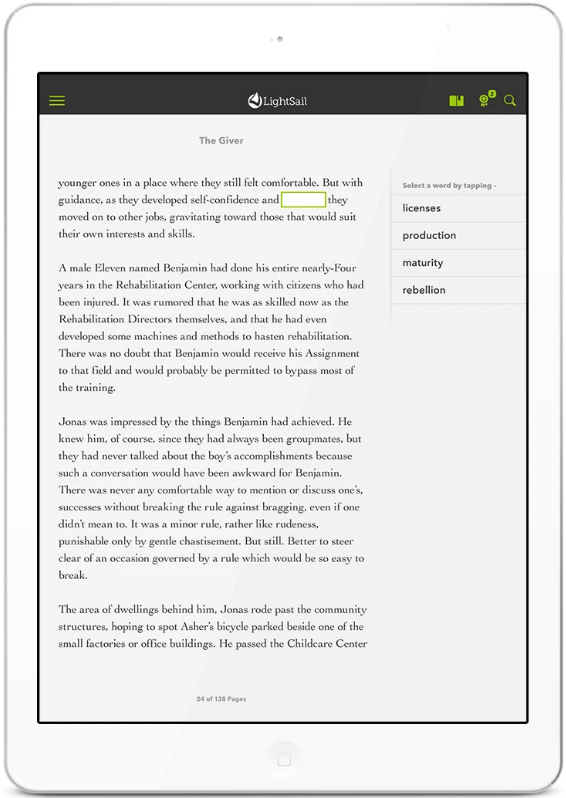 Growth Data for Students and Educators
LightSail was designed to tackle the logistical burden of differentiation in the ELA classroom, so teachers can focus on what really matters – targeted instruction.
Educators get real-time access to meaningful data about student reading behaviour, comprehension and growth. With access to student annotations and dashboards that show both individual as well as class performance, teachers are able to fine-tune instruction in ways that were rarely possible before.
focus on your students' fulll potential using customised gowth data for students and educators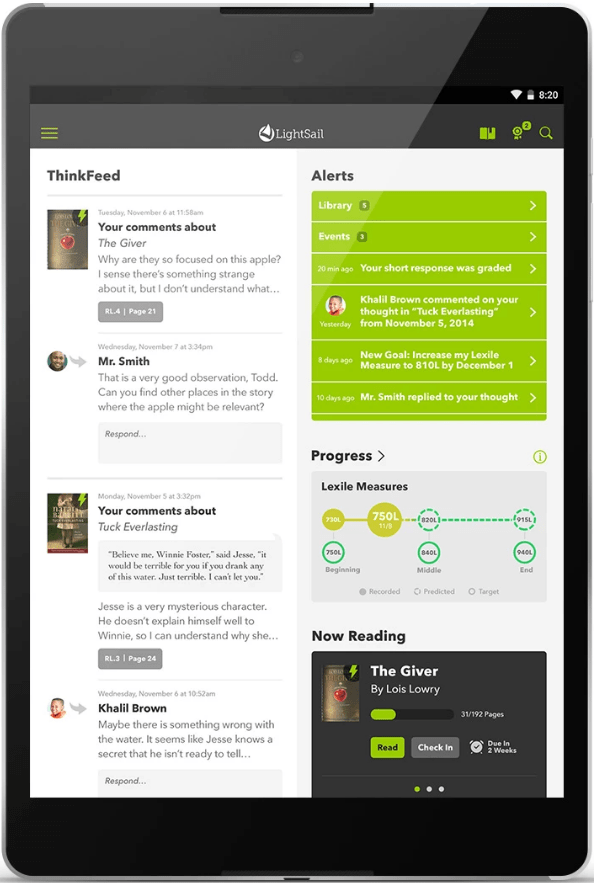 Unparalleled Insight for Teachers
Have you ever wished you could see into student reading activity to know if they were really reading or just turning pages? LightSail's unique design pairs ongoing assessment of reading ability with constant monitoring of reading behaviors, bringing teachers unprecedented visibility into reading progress.
Data is presented via easy-to-read dashboards, and because this data appears for teachers in real-time, they can identify and target struggling students without delay and identify high flyers who are ready for a push.
Motivational Tools for Students
LightSail also lets students track progress as they grow as readers. Students can follow their Lexile growth, project their future reading levels based on recent performance, and chart their progress towards goals. Adaptive, personalized word walls help students keep track of close assessments they've missed and support continued vocabulary acquisition. Students can also see how many books they've read during that year and earn motivational badges as they try out new genres and increase their reading stamina.
The real-time performance analytics on students' LightSail data dashboards encourage students to perform better on the assessments they encounter throughout the texts. The result? Better comprehension and increased ownership of learning and greater motivation to read more. By helping students make meaning of their own data, LightSail empowers their development as readers.
Personalised Libraries
Starting with an initial adaptive assessment, LightSail automatically creates personalized libraries for each of your students based on their reading abilities. These libraries adapt as students grow, ensuring they are already reading "just right" books.
In order to get your digital program off the ground, LightSail comes pre-loaded with over 6,000 assessed texts for free. As your school's content needs grow, and you are ready to expand your digital library, LightSail provides access to over 4,500+ premium books at a wide variety of interests and reading levels.
only lightsail offers the titles that kids want to read, and teachers want to teach