Transform Reading Into a Lifelong Journey for Your Students
Reading is more than just a skill; it's the gateway to knowledge, personal growth, and a fulfilling life. With LightSail's innovative e-book platform, your students won't just read—they'll thrive. LightSail is specifically designed to empower schools to implement a successful Wide Reading program accessible to students at all levels.
Why Choose LightSail?
Adaptive Learning: Personalised libraries that grow with your students.
Real-Time Insights: Track student progress and fine-tune instruction with easy-to-use dashboards.
Unlimited Access: Free, unparalleled content in the LightSail library for all grade levels.
Motivational Rewards: Keep students engaged with achievement badges and social features.
Embedded Assessments: Effortless, real-time progress tracking with no need for additional assessments.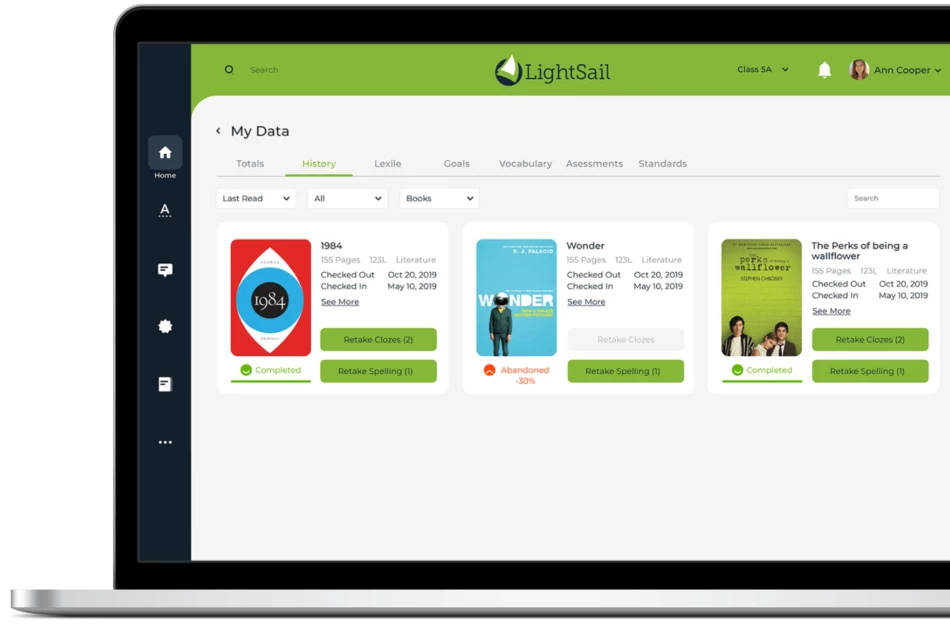 Embedded Assessment and Motivation built right in
Progress monitoring is embedded into daily practice in a natural way. Students answer multiple-choice, written-response, and Cloze assessments throughout each text. As student ability grows, LightSail tracks achievement and updates the selections in each reader's library – that way; students are always reading just the right texts.
LightSail's educators have also built several key motivators into the app! Students can track their progress against individual reading goals, check their Lexile scores and the number of texts they've completed and show off their achievement badges – all via their personal data dashboard. Readers can also chat with peers and teachers during the reading experience using LightSail's in-app social network.
Growth Data for Teachers and Students
LightSail was designed to tackle the logistical burden of differentiation in the classroom so teachers can focus on what matters – targeted instruction.
Educators get real-time access to meaningful data about student reading behaviour, comprehension and growth. With access to student annotations and dashboards that show individual and class performance, teachers can fine-tune instruction in ways rarely possible.
What Educators Are Saying
"LightSail has transformed our reading program. The students are more engaged, and we can track their progress in real time!"

– Samantha, Primary School Teacher
"The breadth and depth of the LightSail library have made it a hit in our school. It offers something for everyone."

– David, High School English Teacher
Featured In
Oxford University Research
News For Kids
Antares Reading™