Conners 4th Edition is live now
We're excited to launch Conners 4 and are looking forward to your feedback! Learn more about the release of Conners 4 below.
How do I access Conners 4 assessment?
Log in to your MAC+ online account
Go to Account Settings
Click "MANAGE MY ASSESSMENTS"
Enable Conners 4 in the list of your available assessments
Click "SAVE" in the bottom right corner
How to enable Conners 4 for your MAC+ sub-users?
Log in to your MAC+ online account
Click on Manage Users
Click on User name of the individual sub-users
Enable Conners 4 assessment
Click "SAVE"
Repeat for all your sub-users
Alternatively, go to Account Settings and select "Share my uses with Everyone" and click "SAVE" This will allow all your sub-users access to Conners 4 at once.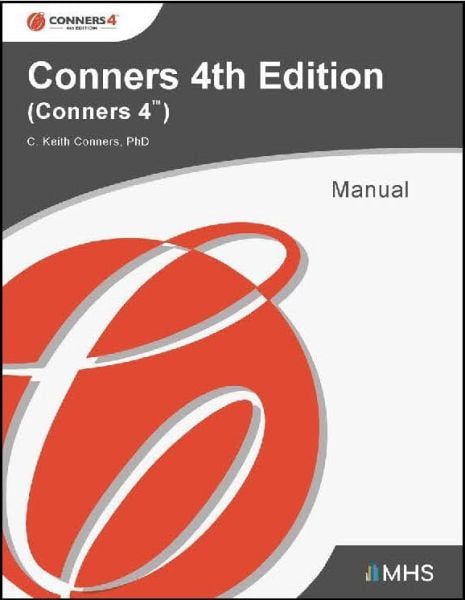 PAA along with MHS is excited to announce that the highly anticipated release of Conners 4™ is here. Conners 4 is a revision of Conners 3rd Edition (Conners 3®), the world's leading Attention-Deficit/Hyperactivity Disorder (ADHD) assessment.
This newest edition of the tool is rooted in 50 years of research on childhood and youth psychopathology and builds on the long history and strengths of the multi-informant Conners Rating Scales. Conners 4 provides a thorough assessment of symptoms and impairments associated with ADHD and common co-occurring problems and disorders in youth aged 6 to 18 years.
MHS would like to thank Dr. C. Keith Conners and acknowledge his incredible work and contributions to the field of ADHD. MHS has been very fortunate to have collaborated with Dr. Conners to create Conners 4. Conners' collection of assessments would not exist today without his passion and dedication. Dr. Conners was concerned with the overdiagnosis of ADHD. The prevalence of ADHD in youth is between five and eight percent, but nearly 25% of school-age children are medicated or prescribed medication for ADHD. Dr. Conners hoped the improvement to his scales in the Conners 4 could help mitigate potential overdiagnoses.
Many of our customers are patiently waiting to add Conners 4 to their assessment battery and are eager to learn more about the assessment. We want to share a sneak preview of some of the new features and how they will help streamline your assessment of ADHD and common comorbid disorders.
Test development and new features
In addition to fairness and inclusivity principles, a wealth of new research and data on ADHD and comorbid conditions were incorporated into the conceptualization and design of the test. Updated normative data was derived from a large sample designed to be representative of the North American population (based on the U.S. and Canadian census figures), stratified based on age, gender, race/ethnicity, parental education level, and geographic region.
There are many new and exciting features incorporated into Conners 4 that will help improve the overall efficiency and accuracy of your assessments of ADHD and common comorbid disorders, including:
Improved efficiency and usability
Conners 4 is now fully digital to help you save time and improve efficiency with customizable reports, a digital manual, online scoring and reporting, easy inventory management, and printable forms
Increased accuracy of assessment
Conners 4 provides a more comprehensive picture of how a rater approaches completing the measure, using the Response Style Analysis that includes new and updated validity scales, the number of omitted items, and the average number of items completed per minute (pace)
Address critical concerns with Severe Conduct and Self-Harm Critical Items and a Sleep Problems Indicator
Measure impairments related to ADHD symptoms in the school, social, and family domains
Evaluate new content areas and common co-occurring problems such as Emotional Dysregulation, Depressed Mood, and Anxious Thoughts
Apply a dimensional approach to ADHD assessment with an additional DSM Symptoms Scale–Total ADHD Symptom
Superior quantification of severity
Evaluate severity of symptoms and level of impairment due to symptoms by comparing the child's/adolescent's results to an ADHD Reference Sample (others already diagnosed with ADHD)
Enhanced collaboration amongst stakeholders
Facilitate collaboration with parents using the enhanced Feedback Handout (easy-to-understand explanation and summary of results)
Increased fairness and inclusivity
Increased fairness and inclusivity with gender-inclusive language, culturally sensitive items, and items and scales that show no evidence of measurement bias concerning gender, race/ethnicity, country of residence, or parental education level
More informed intervention
Evaluate youth's relative strengths and weaknesses using Within-Profile Comparisons
Easier Administration
Take the guesswork out of your inventory management with a new way to order Conners 4 uses. Purchase a general Conners 4 use and apply it across any Conners 4 form upon report generation
If you prefer paper administration, you can still print the assessment form for the student, parents, and teachers to bring home, to school, or to the office. The form can then be returned to the practitioner to enter the information into MHS Online Assessment Center+