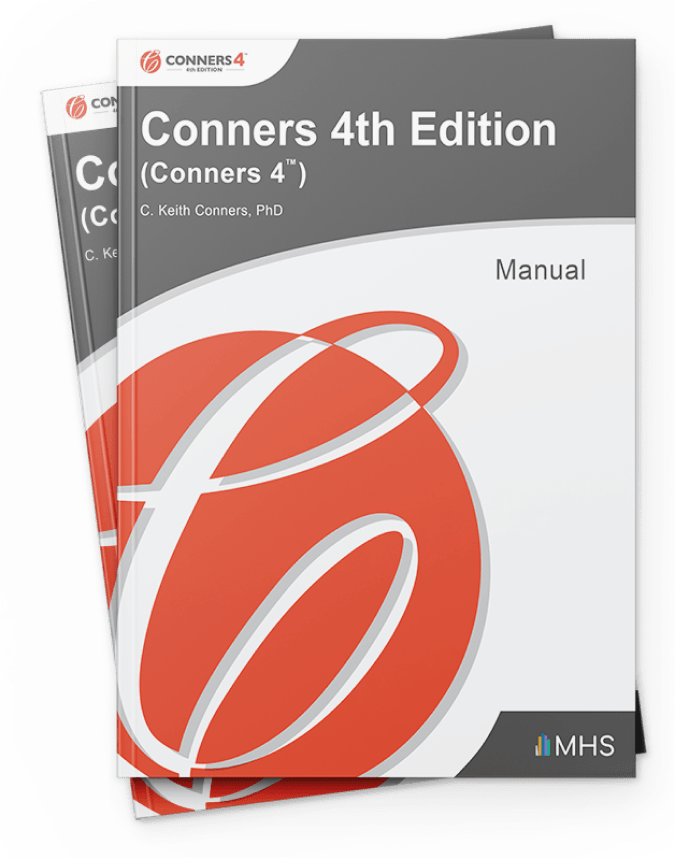 CONNERS 4th Edition [CONNERS-4]
MHS has complied informative resources we hope you will find helpful as you make the transition from using Conners 3rd Edition (Conners 3®) to Conners 4th Edition (Conners 4™) or begin using Conners 4 – well-validated and trusted tool that provides a comprehensive evaluation of ADHD and continues to evolve with new research
For ages: 6 to 18 (Parent & Teacher) or 8 to 18 (Self Report)
Administration Type: Parent, Teacher, Self
Administration Time: 10 to 25 minutes
Format: Online administration and scoring in MHS Assessment Centre+(MAC+); Print paper forms and score online
Author: C. Keith Conners, PhD.
Manuals
Click to browse products
Online Forms, Administrations and Reports
Click to browse products
← Back to Product Description
Conners 4 Manual (Print)
C40000
This is a printed book of Conners 4 Manual. Online version of Conners 4 Manual becomes available FREE of charge in your MAC+ online account once you order Conners 4 online uses.
Conners 4 Online Report (each)
C4USE
For use in MHS Online Assessment Centre+ (MAC+) platform. Contact us if you don't have a MAC+ online account set up yet.
← Back to Product Description
Conners 4th Edition (Conners 4™) is the highly anticipated revision of the Conners 3rd Edition (Conners 3®), the world's leading Attention-Deficit/Hyperactivity Disorder (ADHD) assessment.
Conners 4 provides a comprehensive assessment of symptoms and impairments associated with ADHD and common co-occurring problems and disorders in children and youth aged 6 to 18 years. The Conners 4 is an inclusive and fair measure that builds on the long history and strengths of the multi-informant Conners Rating Scales. Conners 4 will be an invaluable part of your ADHD assessment battery with updated norms, improved workflows, and new and improved features.
New Features
Improved Efficiency and Usability
Now fully digital, Conners 4 helps you gain valuable time with customizable reports, online scoring for better data visualization, easy inventory management, a digital manual, and printable forms.
Increased Accuracy of Assessment
Conners 4 updates allow you to:
Address critical concerns with Severe Conduct and Self-Harm Critical Items and a Sleep Problems Indicator
Measure impairments related to ADHD symptoms in the school, social, and family domains
Evaluate new content areas and common co-occurring problems such as emotional dysregulation, depressed mood, and anxious thoughts
Apply a dimensional approach with an additional DSM Symptoms Scale – Total ADHD Symptoms
Superior Quantification of Severity
Conners 4 helps you evaluate the severity of symptoms by comparing the child's results to an ADHD Reference Sample (children/youth already diagnosed with ADHD).
Enhanced Collaboration with Parents
Conners 4 facilitates collaboration with parents using an enhanced Parent Feedback Handout (easy-to-understand explanation and summary of results).
Increased Fairness and Inclusivity
Conners 4 improves fairness and inclusivity with gender-inclusive language, culturally sensitive items, and items and scales that show no evidence of measurement bias regarding gender, race/ethnicity, country of residence, or parental education level.
More Informed Intervention
Conners 4 allows evaluation of a youth's relative strengths and weaknesses using Within-Profile Comparisons for more informed intervention.
Easier Administration
Take the guesswork out of your inventory management with a new way to order Conners 4 uses. You can purchase a general Conners 4 use and apply it across any Conners 4 form while generating reports.
Key Areas Measured
---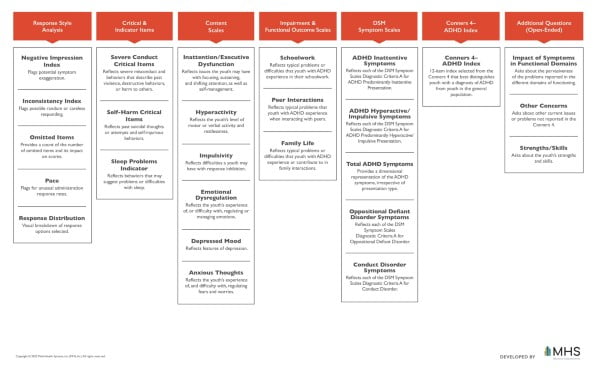 ---
Conners 4 Full-length
Number of items:
Parent 117
Teacher 109
Self-Report 118
This form is the most comprehensive and is recommended for use in initial evaluations and full re-evaluations.​ This form includes all Conners 4 items and scales.
Conners 4 Short
Number of items:
Parent 53
Teacher 49
Self-Report 51
This form is useful when a rater has limited time, or when the rater will be asked to complete the Conners 4 repeatedly (e.g., monthly assessment of treatment response).​ This form takes less time to complete than the full-length form but is not as comprehensive because it has fewer scales and fewer items per scale (for both Content and Impairment & ​Functional Outcome scales).​
Conners 4 ADHD Index (AI)
Number of items:
Parent 12
Teacher 12
Self-Report 12
This index can be used as a screener to determine which youth are most likely to require a more comprehensive evaluation.​ The Conners 4–ADHD Index contains 12 items from the full-length form that best differentiate youth diagnosed with ADHD from youth in the general population.
reports
Single Rater Report
Provides detailed information about scores from a single administration, presented numerically, graphically, and within an interpretive summary. A youth's scores are compared to those in one or more Normative Samples, and optionally, to an ADHD Reference Sample. Also includes a Within-Profile Comparison of the youth's results to their own average score. Elevations at both the scale and item level are included. Key results are provided in a one-page overview.
Resources for existing Conners 3 online users only
For customers currently using Conners 3 within the MHS Online Assessment Centre+, an efficient process is available to help you transition to Conners 4, through a self-serve option within the MHS Online Assessment Center+. To learn more about this easy process, please review the documents below:
Resources for existing Conners 3 paper and software users only
Conners 4 is only available in a digital format via the MHS Online Assessment Center+. Making the transition from conducting assessments using paper and hand-scoring, or software to switching to an online assessment platform can feel like a big task. However, we've made this process as seamless as possible.
The resources listed below are designed to help you understand the benefits of assessing online and the ease of use and utility of the MHS Online Assessment Center+.
Assessing online has never been easier with the new MHS Online Assessment Center +. Experience the new online platform designed with clinicians for clinicians to ensure the easiest, fastest and most accurate assessing possible!
Benefits of online administration, scoring and reports
Save time – fast, easy and accurate administration with automated scoring
Assess and score from anywhere – enjoy the convenience of viewing reports from your home, office or anywhere with an online connection
Improve efficiency and accuracy – when items are absent, prompts appear to ensure information is not missed
User friendly – easy to use interface for practitioners and respondents
Gain information easily – email a link to the form directly to the respondent
Tailored organisation – data can be customized to how you work
Benefit from significant cost savings – don't purchase paper forms in bulk ever again
View the full list of assessments available in the MHS Online Assessment Center + here.
Contact
If you require more support, please reach out to our Customer Service team who will be happy to help.
Email: info@paa.com.au
Phone: 02 9589 0011
Monday – Friday 9am to 5pm Sydney