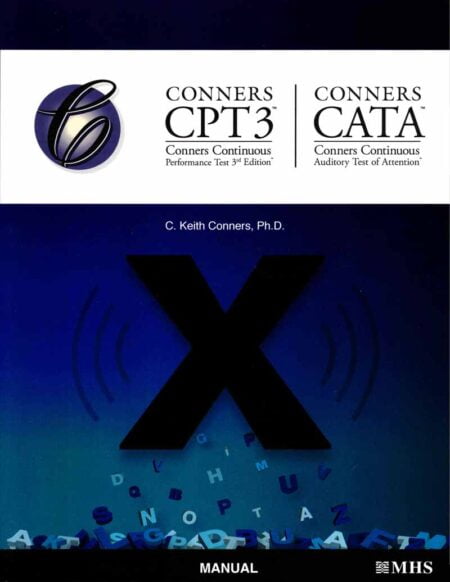 Conners Continuous Auditory Test of Attention
conners-cata
For: Assesses auditory processing and attention-related problems in individuals aged 8 years and older
Reading Level: 8+ years
Format: PC Based Software
Length: 14 Minutes
Scoring:  Computer Scoring


Kits
Click to browse products
← Back to Product Description
CATA – Conners Continuous Auditory Test of Attention Unlimited Use Kit
CATA03
← Back to Product Description
Author
C. Keith Conners, PhD
Description
The Conners Continuous Auditory Test of Attention (Conners CATA) assesses auditory processing and attention-related problems in individuals aged 8 years and older. By indexing the respondent's performance in areas of inattentiveness, impulsivity, and sustained attention, the Conners CATA can be used to evaluate attention disorders and neurological functioning. The Conners CATA provides objective information about an individual's performance in attention tasks, complementing information obtained from rating scales such as the Conners 3.
The Conners CATA can be used in conjunction with the Conners Continuous Performance Test 3rd Edition (Conners CPT 3) which is a task-oriented computerized assessment of attention-related problems in individuals aged 8 years and older. The Conners CATA and Conners CPT 3 can be purchased as a combo kit or individually.
Features and Benefits 
200 trials
Two types of trials  and sounds:
Warned Trials: low tone, followed by the high tone
Unwarned Trials: high tone by itself, without warning
Dimensions of Auditory Attention Measured: Inattentiveness, Impulsivity, Sustained Attention
Descriptive information about the respondent's Auditory Laterality and Mobility
Results can be broken down into blocks to track the respondent's performance over the course of the test.
How To Use The Assessment
During the 14-minute, 200-trial administration, respondents are presented with high-tone sounds that are either preceded by a low-tone warning sound (warned trials) or played alone (unwarned trials). Respondents are instructed to respond only to high-tone sounds on warned trials, and to ignore those on unwarned trials. On most trials, the low-tone and the high-tone sounds are played in the same ear (non-switch trials). On switch trials, the low-tone warning sound and the high-tone target sound are played in different ears, requiring the respondent to shift auditory attention from one ear to the other.
Reports 
The following reports are available:
Conners CATA Assessment Report
Conners CATA Progress Report
NB: Prices are in Australian dollars inclusive of GST. NZ customers need to log in to view ex-GST prices.