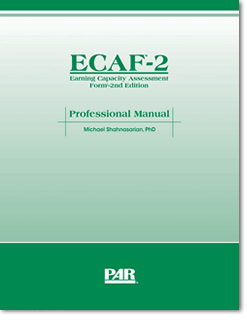 Earning Capacity Assessment Form - 2nd Edition
ecaf-2
For: Estimate future loss of earning capacity following an injury or accident
Reading Level: Ages 0 to 99 years
Format: Paper-and-Pencil
Length: 5-10 minutes
Scoring: Hand Scored
Kits
Click to browse products
← Back to Product Description
ECAF-2 Introductory Kit
6929-KT
Kit includes Professional Manual and 25 Rating Forms.
← Back to Product Description
Author
Michael Shahnasarian, PhD
Description 
The ECAF-2 helps to standardise and objectify loss of earning capacity claims. The task of evaluating an individual's loss of earning capacity is similar to the task of evaluating an individual's claim of physical or psychological impairment; however, the vocational rehabilitation profession has lacked the standardised, validated sources necessary to promote reliable and consistent practices. The ECAF-2 aids vocational rehabilitation evaluations by providing a method to guide the process of evaluating a claim of loss of earning capacity.
The ECAF-2 facilitates a systematic analysis and appraisal of loss of earning capacity. It does not provide absolute, definitive answers, but assists examiners in making more valid and reliable assessments of loss of earning capacity claims. The ECAF-2 promotes objectivity, standardisation, and systematic consideration of factors pertinent to evaluating such claims. The ECAF-2 is most effectively used in conjunction with a clinical interview, record review, or other vocational rehabilitation assessment methodologies.
The ECAF-2 Rating Form is a four-page booklet that helps evaluators to assess a client's Drivers-factors that could facilitate an individual's vocational rehabilitation-and Inhibitor-factors that could adversely affect one's vocational rehabilitation. Drivers and Inhibitors can be quantified using the ECAF-2. Qualified vocational rehabilitation evaluators should also take into account premorbid and postincident factors that may facilitate rehabilitation or be detrimental to a claimant's vocational rehabilitation when making their ratings.
The ECAF-2 may be used in forensic cases where there are allegations of acquired disabling problems or related claims of loss of earning capacity. The ECAF-2 may be particularly useful when the assessment of latent or future loss of earning capacity is evident but difficult to quantify, such as in cases of paediatric patients with permanent injuries, individuals early in their careers who have yet to demonstrate a baseline of career achievement, individuals who have not realised their full earning capacity because of an interruption in their career development, individuals who anticipate experiencing degenerative problems and/or other vocational handicaps, and individuals who lack a demonstrated earnings record.
The ECAF-2 contains 14 Driver and Inhibitor items, helping to create a standardised basis for vocational rehabilitation examinations for loss of earning capacity.
The ECAF-2 does not need to be administered during clinical time; most of the ECAF-2 questions may be answered by the examiner after a session with the client.
ECAF-2 materials include a four-page Rating Form and a Professional Manual to help guide evaluators' thoughts when assessing loss of earning capacity claims.
NB: Prices are in Australian dollars inclusive of GST.  NZ customers need to log in to view ex-GST prices.