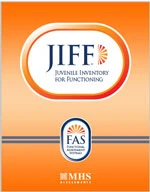 Juvenile Inventory for Functioning
jiff
Author: Kay Hodges, Ph.D., ABPP
Age: 3 - 19
Admin Time: 15 to 30 minutes
Admin Type: Parent, Self
Format: Hand-scored
Reading level: 2nd to 3rd grade
Online Forms, Administrations and Reports
Click to browse products
← Back to Product Description
FAS Outcomes JIFF Assessments
JIF100
← Back to Product Description
A hands-on, interactive, computerized interview that is self-administered by the client or caregiver(s)
Overview
The JIFF® is derived from the CAFAS®, and is a hands-on, interactive, computerized interview that is either self-administered by the client or administer by the caregiver(s). The interview covers 10 life domains, represented in the 10 subscales.
Does not require training—JIFF®is an ideal tool for front line staff
Covers 10 life domains
Can be used for rapid assessment
Key areas measured
School/Work
Home
Family Environment
Peer Influences
Community Behaviour
Feelings
Self-Harm Potential
Substance Use
Health Related Needs
Rational Thinking
Reports
Summary Reports provide an immediate view of key JIFF results such as risk behaviors, mental health concerns, and the extent of a youth's needs across the 10 domains.
Service Plans suggest goals for the youth. Staff select the goals they would like included in the service plan and assign services and interventions.
How to use
The computer reads the JIFF interviewer questions aloud at a second- to third-grade reading level. The interviewee selects the appropriate answer on the computer screen or responds to open-ended questions. Two versions (youth and caregiver) ask questions across the 10 areas of functioning. Interests and strengths-based coping skills are also covered in the interview.
A Service Plan is automatically started by the software and is quickly completed by staff, with input from the family. Based on the respondent's answers, the application automatically suggests goals that might be appropriate for the youth. Staff then select the goals to be included in the Service Plan and assign services/interventions and a priority level to each goal. Service, priority levels, and additional goals are customized to the individual client.
The JIFF Service Plan is a powerful tool that translates the youth or caregiver's responses into an action-plan based on practical, achievable goals. Additionally, if both the youth and caregiver take the JIFF Interview, their results can be integrated into one Service Plan.
Reliability and validity
Studies have shown that the caregiver and youth versions of the JIFF have good correspondence rates. JIFF scores at entry into a program have been found to predict recidivism. In addition, excellent internal consistency of the scale and subscales has also been found.