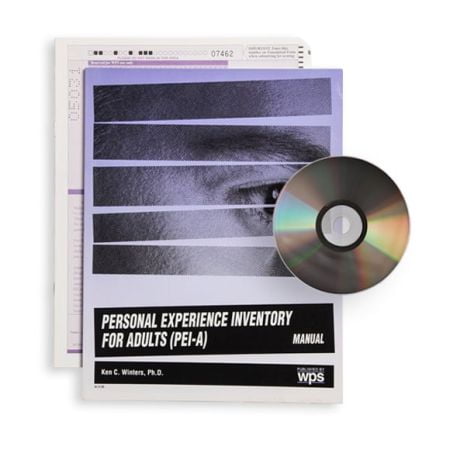 Personal Experience Inventory for Adults
pei-a
For: Measures substance abuse patterns and associated psychosocial problems in adults
Reading Level: Ages 19 years and over
Format: PC Based Software
Length: 45 to 60 minutes
Scoring: Computer Scored


PC Software
Click to browse products
Kits
Click to browse products
← Back to Product Description
PEI-A 25 Use Scoring CD
W-310U
For use on PC with Microsoft Windows 98, ME, XP or 2000. (For Vista compatibility, call PAA) Each CD ROM is good for 25 uses. 1 CD ROM.
PEI-A PC Answer Booklet (10)
W-310C
Packs of 10. For use with the PEI-A CD. Includes test items.
PEI-A Kit with CD for On-Site Computer Scoring
W-310CD
Includes 5-use PEI-A CD. (requires Windows 98, ME, XP, or 2000). (For Vista compatibility, call PAA) 5 PC Answer Booklets; Manual.
← Back to Product Description
Author
Ken C. Winters, Ph.D.
Description
This self-report inventory provides comprehensive information about substance abuse patterns in adults (ages 19 or older). It may be used to identify alcohol and drug problems, make referrals, and plan treatment. And, because substance abuse rarely occurs in isolation, the PEI-A also assesses a range of psychosocial problems associated with substance abuse today. Written at a sixth-grade reading level, the PEI-A has two parts – the Problem Severity Section (120 items) and the Psychosocial Section (150 items):
Problem Severity Scales
Personal Involvement With Drugs       
Physiological Dependence
Effects of Use
Social Benefits of Use
Personal Consequences of Use
Recreation Use
Transsituational Use
Psychological Benefits of Use
Preoccupation
Loss of Control
Treatment Receptiveness
Psychosocial Scales
Negative Self-Image                           
Psychological Disturbance
Social Isolation
Uncontrolled
Rejecting Convention
Deviant Behaviour
Absence of Goals
Spiritual Isolation
Peer Drug Use
Need for Psychiatric Referral
Estrangement in the Home
Drug use Frequency, Duration and Age at Onset
Alcohol
Marijuana and Hashish
LSD and Other Psychedelics
Cocaine and Crack
Amphetamines
Barbituates
Tranquilisers
Heroin
Narcotics Other Than Heroin
Steroids and Anabolic Steroids
Glue and Other Inhalants
Problem Screens
Suicide Risk
Work Environment Risk
Past Family Pathology
Other Impulse-Related Problems
Significant Other Drug Problem
Sexual Abuse Perpetrator
Physical Abuse Perpetrator
Physical/Sexual Abuse Victim
Interpersonal Pathology
Miscellaneous (high-risk sexual behaviour, gang membership, physical disability)
Validity indicators are also included.
Respondents usually complete the test in 45 to 60 minutes. The PEI-A is then computer-scored which gives you a complete interpretive report.  This compares the clients scores to those of two norm groups: 895 drug clinic clients and 690 normal, nonclinical adults.
The PEI-A detects signs of substance abuse and dependence, pinpoints the nature and style of drug use, documents onset, duration, and frequency of use, assesses factors that precipitate or maintain drug use, and identifies behavioural or emotional problems that may accompany drug use. It is invaluable for treatment planning and outcome measurement.
NB: Prices are in Australian dollars inclusive of GST. NZ customers need to log in to view ex-GST prices.