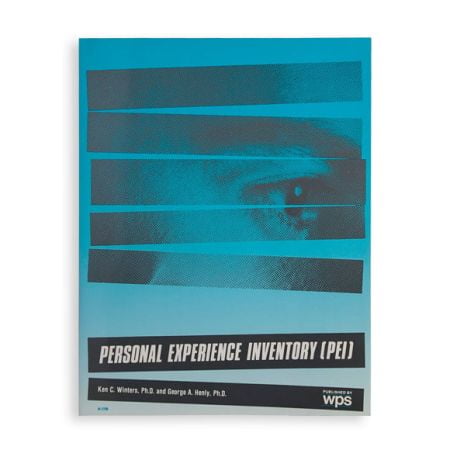 Personal Experience Inventory
pei
For: Assesses all forms of substance abuse plus related psychosocial problems and personal risk factors
Reading Level: Ages 12 to 18 years
Format: PC Based Software
Length: 45 minutes
Scoring: Computer Scored


PC Software
Click to browse products
← Back to Product Description
PEI 25-Use Scoring CD
W-229U
PC with Windows 98, ME, XP, or 2000. (For Vista compatibility, call PAA). Each PEI CD is good for 25 uses. 1 CD.
PEI Kit with CD for On-Site Computer Scoring
W-229CD
Includes 5-use PEI CD (requires Windows 98, ME, XP, or 2000) (For Vista compatibility, call PAA) 5 PC Answer Booklets; 1 Manual.
PEI PC Answer Booklet (10)
W-229C
For use with the PEI CD. Includes test items. Pack of 10.
← Back to Product Description
Authors
Ken C. Winters, Ph.D. and George A. Henly, Ph.D.
Description
The PEI helps you identify, refer and treat teenagers with drug and alcohol problems. It is particularly useful because it covers all forms of substance abuse, assesses both chemical involvement and related psychosocial problems, and documents the need for treatment.
This convenient self-report inventory, used with more than 100,000 adolescents in facilities throughout the country, documents chemical involvement in 12- to 18-year-olds and identifies personal risk factors that may precipitate or sustain substance abuse.
Problem Severity Scales
Personal Involvement With Chemicals
Effects From Drug Use
Social Benefits of Drug Use
Personal Consequences of Drug Use
Polydrug Use
Transsituational Drug Use
Psychological Benefits of Drug Use
Social-Recreational Drug Use
Preoccupation With Drugs
Loss of Control
Drug Use, Frequency, Duration and Age of Onset
 Alcohol
 Amphetamines
 Marijuana or Hashish
 Quaaludes
 Barbiturates
 LSD
 Other Psychedelics
 Tranquilisers
 Cocaine/Crack
 Inhalants
 Heroin
 Other Opiates
Psychosocial Scales
Negative Self-Image
Psychological Disturbance
Social Isolation
Uncontrolled
Rejecting Convention
Deviant Behaviour
Absence of Goals
Spiritual Isolation
Peer Chemical Involvement
Sibling Chemical Use
Family Pathology
Family Estrangement
Problem Screens
Family Chemical Dependency
Sexual Abuse
Physical Abuse
Eating Disorder
Suicide Potential
Psychiatric Referral
In addition, five validity scales alert you to response distortion, including defensiveness, "faking bad," and inattentive responding. Norms, based on nearly 2,000 adolescents, are provided by age and gender for both drug clinic populations and regular high school samples. So you may see where the teenager stands in relation not only to the most extreme cases but also to average adolescents.
The entire inventory may be completed in just 45 minutes. It is then computer scored which provides a complete interpretive report.
The PEI is routinely used in substance abuse treatment programs, student assistance programs, juvenile rehabilitation centres, and private practice. Reinforcing the trend toward earlier intervention, the PEI makes it easier to evaluate the many adolescents who are entering the health care system at younger ages, with more poorly defined problems. It permits more specialised treatment.  Then it documents the need for treatment, for insurance companies, the juvenile justice system, and parents.
NB:  Prices are in Australian dollars inclusive of GST.   NZ customers need to log in to view ex-GST prices.