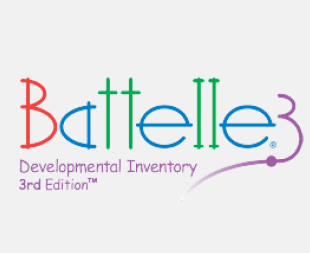 The Battelle® Developmental Inventory, Third Edition™
bdi-3
The play-based assessment that's actually fun to administer.
As children age, they typically attain critical skills and behaviours sequentially, from simple to complex. Assessment of developmental strengths and needs during this time is critical for early development centres, private clinicians, schools, and others seeking to determine the need for educational resources or interventions and build plans accordingly.
Author: Jean Newborg
Testing Time: 5 to 10 minutes per subtest
Format: Paper and Online
Paper Forms and Hand Scoring Materials
Test forms, response booklets and scoring reference manuals.
← Back to Product Description
BDI-3 Developmental Screening Record Forms with Online scoring (25)
2000289
Packet of 25 paper Record Forms with Online scoring
← Back to Product Description
There are three kits to The Battelle® Developmental Inventory, Third Edition™ (BDI-3™)
The BDI-3 Developmental Complete Kit;
The BDI-3 Developmental Screening Test Kit and
The BDI-3 Battelle Early Academic Survey (BEAS) Kit.
These are each sold separately and not in combination as before. The kits come with all the materials needed to administer the assessments as well as 25 paper forms and 25 electronic forms (see below for an explanation).
As well as the kit/-s, all customer MUST purchase an annual subscription for an access key to RiversideScore, the online scoring platform. This will give them access to:
the electronic record forms (the examiner fills these out on a devise as the student completes the test and then tallies scores etc. and a report is generated. No paper)
a template for entering scores from a paper form, with a report generated from these scores
norms tables (look up) for those wanting to do everything by hand (and not having any student data stored in RiversideScore). The paper norms book is no longer available.
The one access key gives customers these options for all BDI-3 tests, so if they purchase more than one of the three BDI-3 test kits, they only need a single access key.
BDI-3 measures mastery of developmental milestones in the following global domains:
Communication
Social-emotional
Adaptive
Motor
Cognitive
In addition to the domains above, BDI-3 has added the all-new Battelle Early Academic Survey, with two domains specifically designed to measure foundational literacy and mathematics skills in children ages 3 years 6 months to 7 years 11 months.
Comprehensive. Flexible. Defensible.
The Battelle Developmental Inventory, Third Edition is the only assessment that measures global domains from birth to 7 years, 11 months. Providing examiners with a complete assessment, a screening assessment, and an early academic survey, it is by far the most holistic assessment on the market for early childhood assessment.
BDI-3 is used across the country — and exclusively in 16 states — to:
Assess developmental milestones for school readiness
Help determine eligibility for special education services
Assist in the development of Individualized Education Programs (IEPs)
Child-friendly items, tester-friendly administration.
BDI-3 items are child-friendly and easy to administer, with clear and efficient item-scoring criteria. Based on the multifaceted information from structured, observational, and interview items, BDI-3 can be used by an individual or team of professionals to create a comprehensive picture of a child's skills.
Examiners can choose to administer just one domain, all domains, or any combination as needed, and can begin with any domain of the examiner's choice. "Scripting" helps ensure administration consistency, and it also allows the examiner flexibility to query where necessary to ensure sufficient information is gathered.
Click an image below to explore sample items for that domain!
Subdomains:
Reception
Expressive
Articulation
Subdomains:
Adult interaction
Peer interaction
Self-concept & social role
Subdomains:
Attention and memory
Perception and concept
Reasoning and academic skills
The BDI-3 Developmental Screening Test
BDI-3 Developmental Screening Test allows you to quickly screen and evaluate early childhood developmental milestones to help identify children at risk for developmental delays or disabilities.
Requiring no more than 30 minutes for a full administration, the BDI-3 Screening Test consists of a subset of test items from each BDI-3 Developmental Complete domain, and incorporates the same versatile administration formats of the full assessment.
Quickly screen for school readiness
Rapid evaluation to help clear your testing backlog
Easily determine a cut-score to identify candidates for further testing
The Battelle Early Academic Survey (BEAS)
A New Way to Assess Early Academic Skills
The Battelle Early Academic Survey (BEAS) is a new academic solution for assessing literacy and mathematics skills in children ages 3 years 6 months to 7 years 11 months. The BEAS contains items targeting early foundational skills in Literacy and Mathematics.
What truly sets the BEAS apart? There's no need to wait until age 5 as required by most other early childhood academic assessments.
The BDI-3 Mobile Data Solution (MDS)
Tired of carrying test materials around?
We hear you. That's why we designed the new BDI-3 Mobile Data Solution (BDI-3 MDS) to set you free. Available on compatible iOS, Android, and Windows devices, MDS offers:
Online and offline scoring and reporting
Touch screen functionality
Child information records accessibility
The best part? BDI-3 MDS access is included free with your BDI-3 subscription. Contact PAA for more details.
Scoring and Reporting
BDI-3 scoring can be completed through the web-based Riverside Score™ system – a secure, web-based environment where examiners can easily enter raw scores, assessment data, and test session observations.
Available BDI-3 Reports:
Demographic information
Examinee information
Language/background information
Domains administered
Test session observation
Table of scores
Domain descriptors
Score descriptors
Tables/graphs
Item level