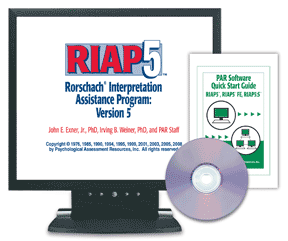 RIAP5: Scoring Program
riap5s
For: Assists in scoring Rorschach results
Reading Level: Child - Elder Adult
Format: Paper-and-Pencil, PC Based Software
Length: N/A
Scoring: Computer Scored


Kits
Click to browse products
← Back to Product Description
RIAP5:S Introductory Kit – Download
11886-KD
Includes RIAP5:S software with On-Screen Help and Quick Start Guide, and 50 Response Recording Forms
← Back to Product Description
Authors
John E. Exner, Jr., PhD, Irving B. Weiner, PhD, PAR Staff
Description 
The unlimited-use RIAP5:S, which incorporates scoring variables and indexes found in the 5th edition of A Rorschach Workbook for the Comprehensive System, is designed to assist in scoring Rorschach results for individuals ages 5 to 70 years. Simply enter a client's demographic information and the Sequence of Scores (i.e., coded responses) into the RIAP5 database.
Program operations are clean, crisp, and user-friendly.
Ensures quick and accurate scoring of the data derived from each Rorschach record.
Software checks for coding errors (e.g. entering inappropriate scores).
The on-screen Software Manual provides a clear description of each coding error and suggests potential solutions.
Provides on-screen access to the Form Quality Tables and Location Charts.
Rorschach Response Recording Forms facilitate and document Rorschach responses.
The RIAP5:S Report includes the Sequence of Scores, Structural Summary and Constellations Table.
Optional user-defined password to ensure confidentiality.
Now, protocol responses can be exported with RIAP5. Newly enhanced Export feature allows the clinician to select the protocols to be exported and allows greater choices of export formats.
The powerful RIAP5 database allows for multiple protocols and reports for each client and facilitates rapid retrieval of client information.
You may upgrade to the full RIAP5 at any time.
System Requirements
Windows XP, Vista, 7, 8 and 10;
Mac users: install Windows in VirtualBox or BootCamp.
Other virtual machine solutions (e.g., Parallels, VMWare) are not supported.
Prerequisite
NTFS file system; 30MB hard drive space; CD-ROM drive for installation; Internet connection or telephone for software activation.   
NB:  Prices are in Australian dollars inclusive of GST.  NZ customers need to log in to view ex-GST prices.